Grounds
The grounds of the Historic Broyhill Building are as charming as the 1920's-kissed interior.
The 4 acres that make up the Historic Broyhill Building grounds feature picturesque backdrops for relaxing, photo shoots, lunches and a variety of social and business activities.
The front of the campus boast two tremendous 100+ year old live oak trees and a variety of ornamentals such as weeping cherries, dogwoods, and Japanese maples.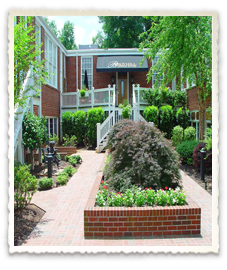 The back of the Historic Broyhill Building features a charming private courtyard and patio with wrought iron patio furniture, benches for quiet meditation and an abundance of ornamental shrubs and flowers.
The 60,000 square foot Historic Broyhill Building and a 5,100 square foot Medical Clinic also owned by the Broyhill family share the campus.