Dear Friends,
We welcome you to our home website where we are proud to present such a historic facility in the Triad. Take time to view the photos and office plans where you might find a new home for your business office. Visit our offerings at the event center which is available for civic lunches, business seminars, and other gatherings. Most impressive are the bridal events and receptions conducted here. Every attention to detail has been made to make all events a special occasion.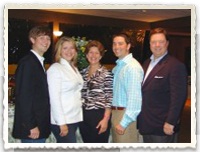 Our staff has the experience and reputation of excellence. For one, we take much pride in what we do to help small business owners succeed and who call Broyhill Office Suites their home. And, of course, the hard efforts we invest in a successful event or lovely wedding is the hallmark of our fine reputation.
Please drop in at your convenience and tour the Broyhill. Stroll the high ceilings above old wood floor halls and experience the professional atmosphere we have created for you.
At your service,
Ed Broyhill
Owner